No Need to Fret, Fully Expect Peyton to Play Against Division Foe, Rival in Biggest Game of Year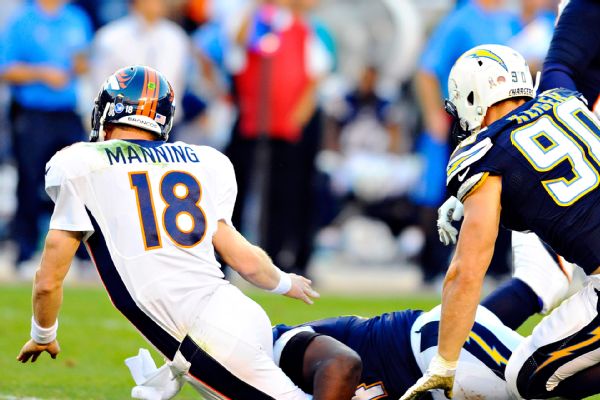 Peyton Manning (18) being dragged down by Chargers
DE Corey Liuget (Photo Courtesy: USA Today - AP)
Denver Broncos
QB,
Peyton Manning
had an MRI result from his sore ankle today back the Broncos facility and the good news that he had no further damage to the very sore ankle of his. This will be an ongoing topic that will be discussed more than anyone would really care to hear about as much, but this is after all, Manning. Manning is setting records individually, sure, but all-time NFL offensive records for TD passes, passing yards, TD:INT ratio, and scoring for 9 games into a regular season. Manning threw 4 TD passes against the Chargers in San Diego in their week 10 match up.
As many (Broncos players, fans, coaches, and Peyton Manning fans) watched and took a big gasp of air witnessing the limp and struggle to stay on his feet after Peyton Manning of the Denver Broncos was taken down after a first down completion to
Demaryius Thomas
with just under 2 minutes to play. A great play call in order to attain a first down and a new set of downs to run the game clock out and not giving the San Diego Chargers another chance in the game with the score 28-20. Instead of running the ball and the Chargers defense stacking the box to stop the run, then calling timeout to stop the clock and force a punt to have one more chance albeit a longshot.
With 1:55 to play on 2nd & 7, the Broncos did not go the predictable route and hand the ball off. Manning threw and completed a 12 yard pass to Thomas and after the throw he got tackled from behind by Chargers DE,
Corey Liuget
, down low and from behind that tied up Peytons feet inside of Liuget's clutch in arms and chest as Manning fell forward. Peyton was certainly gimpy and in pain, but he did not even miss a play and finished off the win, on the field. It did take a time out for him to stay on the field in order to not miss a play because the trainers came out to the field to assess the apparent ankle injury.
Broncos, Interim Head Coach,
Jack Del Rio
, addressing the media at press conference, There was nothing additional, he'll definitely play this week..." continued on with, "... he's ready to roll."
Link from DenverBroncos.com about Peyton's status:
Link from ESPN:
Peyton Manning of Denver Broncos aggravated ankle, will play - ESPN