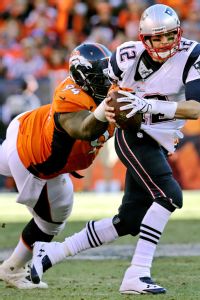 Photo by Barry Chin/The Boston Globe
via Getty Images)Terrance Knighton,
left, was one of Denver's
best performers on the
defensive line this season.
By
Jeff Legwold
| ESPN.com
After a 35-point loss in Super Bowl XLVIII, the Denver Broncos have discovered the hangover can still linger in the city too.
Some with the team said this week that representatives for defensive tackle
Terrance Knighton
have approached the Broncos about the possibility of a new contract, an item that got things buzzing on the Front Range.
So much so that Knighton took to Twitter Tuesday to post: "I don't know why people are mad at me. All I do is play football. The business part is controlled by my agent.''
Photo by Barry Chin/The Boston Globe via Getty Images)Terrance Knighton, left, was one of Denver's best performers on the defensive line this season. But it is often a rite of post-Super Bowl passage for teams. In the wake of the title-game appearance, players whose contracts made them relative bargains on the way to the championship game may be hoping for a bit of a re-do.
Knighton, who signed a two-year deal last March, was one of the Broncos' best performers on defense this season, particularly down the stretch after
Kevin Vickerson
went to injured reserve with a hip injury in late November. Knighton's deal, which included a $500,000 signing bonus, called for him to earn a $1 million base salary in the 2013 season to go with a $1.5 million base salary in '14.
Knighton does have a $1 million roster bonus due in March.
And in the end, players, or in reality their agents, can certainly ask for a new deal. That's how it works, the business of football. After all, when a team is done with a player, the executives don't suddenly stop before typing the guy's name on the waiver wire and say, "Oh wait, he's got three years left on the deal -- we should honor that.''
That said, don't expect Knighton or his representatives to have much success with this one. With John Elway calling the football shots, the Broncos have chosen short-term deals for most of their free-agent signees just for this scenario. Elway ran a lot of businesses before Pat Bowlen hired him to be the team's top football executive and thus far Elway has picked his spots in free agency and hasn't made a habit of tearing up old deals to make new ones.
Knighton's impact was clear on the team's defense and he, and linebacker
Danny Trevathan
, may have been the most consistent performers all season.
But right now his $2.75 million salary-cap figure is slated as the third-highest on the defense for 2014, behind only
Champ Bailey
($10 million) and linebacker
Von Miller
($6.682 million). The Broncos are expected to at least broach the topic of a cap adjustment, possibly even a salary cut like
Chris Kuper
had last August, with Bailey in the coming weeks and months.
So, the Broncos will, unless there is an unexpected and shocking shift in their feelings on the topic, simply let Knighton play out the 2014 season and re-visit it next year at this time when Knighton will be approaching free agency.
In addition the Broncos will have an eye on the salary-cap horizon as well with
Demaryius Thomas
,
Julius Thomas
,
Wes Welker
,
Orlando Franklin
and Miller all slated to be unrestricted free agents following the 2014 season.