Broncos wide receiver Eric Decker joins Jets as Denver invest in free agency
Denver Broncos sign Aqib Talib, DeMarcus Ware, Andre Caldwell and TJ Ward, but allow Eric Decker to join New York Jets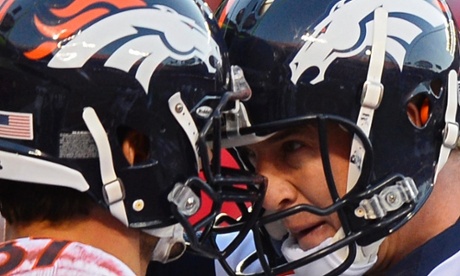 Eric Decker with Peyton Manning before leaving the Denver Broncos for the
New York Jets. Photograph: Larry W. Smith/EPA
The New York Jets agreed a deal with Eric Decker, plucking the wide receiver away from the Denver Broncos, who have been busy in NFL free agency.
The Broncos have already signed cornerback Aqib Talib for $57 million from the New England Patriots, former Dallas Cowboys defensive end DeMarcus Ware to a three-year, $30 million deal and ex-+Cleveland Browns safety TJ Ward, with a four-year contract for $23 million.
Decker will sign a contract with the Jets worth $36.25 million over five years with $15 million in guarantees.
Decker, who will be 27 on Saturday, was a member of Denver's record-breaking offense last season that reached the Super Bowl. With quarterback Peyton Manning passing to him, Decker set individual career-highs with 87 receptions and 1,288 yards. The Jets, on the other hand, were one of the worst offenses in the NFL and are looking to build with second-year quarterback Geno Smith.
The Patriots reacted to the Talib deal by signing five-time Pro Bowl cornerback Darrelle Revis just hours after he was released by the Buccaneers for salary cap reasons. The +New England Patriots agreed on a one-year deal worth $12 million, pending the completion of a physical.
Revis, the Jets' first-round draft pick in 2007, was one of the top cornerbacks in the NFL during his first five seasons, when he helped the Jets reach two AFC Championship games. He tore his ACL in 2012 and was traded to Tampa Bay but returned to form with the Bucs. Revis hasn't always been a fan of Patriots coach Bill Belichick, calling him 'ignorant' and a 'jerk' during his time at the Jets.
The +New York Jets saw right tackle Austin Howard agree to a five-year, $30 million deal with the +Oakland Raiders.
In other deals, the +Chargers signed former Pittsburgh Steelers tight end David Johnson to a two-year deal, wide receiver Jacoby Jones re-signed with the +Baltimore Ravens and former +Tampa Bay Buccaneers linebacker Dekoda Watson agreed to terms with the Jacksonville Jaguars.
The Cleveland Browns released much-maligned quarterback Brandon Weeden and veteran Jason Campbell.
The Tampa Bay Buccaneers signed former Chicago Bears quarterback Josh McCown to a two-year, $10 million contract. Head coach Lovie Smith said Wednesday that McCown would enter training camp as the No. 1 quarterback ahead of rookie Mike Glennon.
The Super Bowl-winning Seattle Seahawks saw free agent wide receiver Golden Tate move to the Detroit Lions, agreeing to a five-year contract. Meanwhile, defensive end Chris Clemons was released to save the team $7.5 million against the 2014 salary cap.
--------------------------
-------------------------------------
Englewood, Colo. (AP) — The Denver Broncos locked up a shutdown cornerback, only his name wasn't Dominique Rodgers-Cromartie.
The +Denver Broncos spent the first day of free agency bolstering their defensive backfield, agreeing to a four-year deal with Pro Bowl safety T.J. Ward on Tuesday afternoon and then hours later reaching an agreement on a six-year contract with cornerback Aqib Talib.
Talib and Ward will play in a secondary that will be without Champ Bailey, who was released last week, and may be moving on from Rodgers-Cromartie, who entered free agency without a new deal from the Broncos.
The 28-year-old Talib had quite a year for New England last season, with teams largely choosing to go the other way rather than pick on him.
Sound familiar? It was the same way for Bailey in his prime.
By agreeing to a deal, Talib seemed to show there's no bad blood between him and the Broncos after he hurt his knee early in the AFC championship game against Denver when he was bumped by +Wes Welker on a crossing route. The league's officiating chief later ruled it a legal hit by Welker.
ESPN first announced the agreement with Talib, which is reportedly worth $57 million. The Broncos also are reportedly interested in defensive lineman DeMarcus Ware, who was released by Dallas on Tuesday in a salary-cap move.
Talib will be reunited with cornerback Chris Harris Jr., who's also a former Kansas Jayhawk. Harris played opposite of Rodgers-Cromartie last season before blowing out a knee against San Diego in the divisional round.
Harris later posted on his Twitter account: "I had to call my Fam Talib to see if it was real."
Yep, it's real.
The Broncos also brought in Ward, who had 129 tackles and two interceptions for Cleveland in 2013. The Broncos are looking for some stability at a position that got juggled last year, with the loss of Rahim Moore and the inconsistent play of Duke Ihenacho. Veteran Mike Adams, also formerly of Cleveland, started the season as a reserve but ended up in the starting lineup.
"He's a young, explosive strong safety who is going to bring a lot of energy and toughness to our secondary," Broncos boss John Elway said of Ward.
Denver's big receiving news Tuesday was a two-year extension for fourth receiver Andre Caldwell, who could move up a notch because the Broncos and Eric Decker have parted ways.
Caldwell came on late in the season when Welker was sidelined with a concussion. The 28-year-old Caldwell had 11 of his 16 receptions over the final three games of the season.
His most productive game in 2013 was against San Diego on Dec. 12, when he had six receptions for 59 yards and two TDs.
Caldwell was held without a catch in the 43-8 loss to Seattle in the Super Bowl.
"Hopefully I can compete for an extended role this year and contribute a lot more to the team," Caldwell said.
Caldwell received an invitation from Peyton Manning to attend offseason workouts at Duke University. Last spring, only Welker, Demaryius Thomas and Decker were invited to work on their chemistry with the five-time NFL MVP quarterback.
"It's just a process of building confidence with those guys all the way from April," Caldwell said.
Ward is expected to be a main piece around which the Broncos reshape a defense that was obliterated by an injury epidemic last season, losing Von Miller, Harris, Derek Wolfe, Kevin Vickerson and Moore.
The Broncos also could seek a replacement for linebacker Wesley Woodyard, a free agent who is now a LB for the +Tennessee Titans.
They'll need a new starting guard now that Zane Beadles has agreed to terms with Jacksonville.
Running back Knowshon Moreno is a free agent as well after rushing for 1,038 yards and 10 TDs in 2013.
The Broncos also hired two new coaches on Tuesday, bringing in assistant offensive line coach James Cregg and offensive quality control coach Bo Hardegree.