+NFL
Week 9 Game Rankings: Hard to beat
Tom Brady vs. Peyton Manning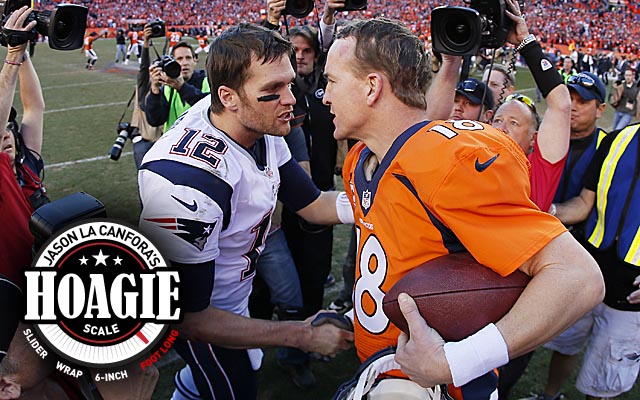 Brady and Manning meet again in a rematch of last season's AFC championship game.
+Getty Images
Last week was Statement Week for pretty much every team in the league that needed a win.

Can that continue again?

Every potential contending team that was under extreme duress to win -- +Seattle Seahawks, +New Orleans Saints, +Cincinnati Bengals, +Pittsburgh Steelers and +Buffalo Bills -- won. Even those that simply couldn't really afford to lose to weaker opposition, like Detroit and Cleveland, got the job done. Then there's Chicago. The +Chicago Bears imploded in New England and is sinking to new depths.

But you get the prevailing sentiment that comes into this week. The team that needed the game most, in almost every instance, won in Week 8 -- whether it was a blowout or hard-fought. This week there aren't nearly as many cases where one team that's in the playoff mix really has its back against the wall and needs to prove something.

With six teams on the bye -- the +Detroit Lions, +Atlanta Falcons, +Green Bay Packers, +Buffalo Bills, Bears, and +Tennessee Titans -- there is a dearth of divisional games. There are three total, although two of them are humdingers -- Ravens at Steelers and Saints at Panthers.
And, in the coveted 4:25 p.m. (EST) slot, which always dominates ratings, we have on what might be the regular-season game of the year on CBS -- possibly the final meeting between Tom Brady and Peyton Manning.

So why don't we get right to the footlongs on that note, my friends.