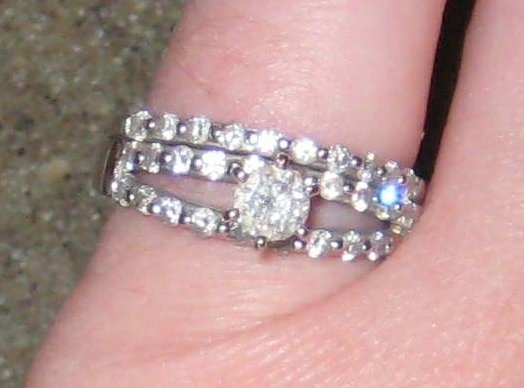 Wedding Ring Exchanged for Tickets to the Chiefs
vs. the Broncos Today
No doubt that the action in of itself is one of compassion and love for another. In our opinion, probably was really not much of a big deal personally unless it was done in part to spite the former figure behind the ring that was exchanged for tickets to this weekend's matchup of the
+Denver Broncos
, going to Arrowhead Stadium in Kansas City, and playing the
+Kansas City Chiefs
for the
+NFL
's 13th week. Grand gesture no doubt. When she actually sold this pretty nice looking wedding ring for tickets, it was when the Chiefs were unbeaten and had not lost their last two games against the Broncos, in Denver, and at home versus the
+Chargers
. Perhaps the high hopes have been tempered beforehand. The outcome of the game and its impact on the two teams in the AFC that share the best record in their conference is as significant as a week 13 regular matchup that teams can have.
The meaning of this is because of the seeding and playoff format the league has. Which give the division winner a higher seed and home field against a wild-card team that may, in fact, have a worse record than the 2nd place team. Despite the strong records by the two clubs, there is only one division winner and the other will be a wild-card team that are either the #5 or #6 seeds designated for the wild-card clubs. Both teams lost close games that could have gone in favor of their side if a break or play had gone their way. Chiefs lost on a last minute TD pass by a margin of 3 pts. The Broncos in an uber-bittersweet loss where they started off magnificently against the difficult
+New England Patriots
, jumping out to a 24-0 lead with 3 early forced fumbles and recoveries. First one was returned by the impactful difference maker, Von Miller for a TD. Then the Patriots, at home, garnered some momentum, penalty fortune, 20+ mph winds, and a Broncos secondary that was down to their last DB, losing 3 at points of the game. Most of which was right before or around halftime. Patriots took advantage of that and the Broncos made it easier by committing 4 turnovers after forcing the first 3. Despite all the
+Tom Brady
love by the big media pundits and dissing of the head to head record that
+Peyton Manning
has against him and the "cold weather," the Broncos scored a TD late down 31-24 against all momentum and odds with as impressive of throw in the cold and wind as any and his included accuracy and touch into wind. And had borderline FG position that was 5 yards or one first down away from having a FG chance. Then with 3 minutes left and the depleted Broncos defense held the Patriots down fairly well and controlled field position mostly. A punt that with the wind had a Welker indecision that was late in calling off his blockers and the ball took a completely lucky bounce and timing to hit Tony Carter's leg as he was trying to get away at the last split-second right as the ball bounced. If that bounce is not happening. In all likelihood, the Broncos either run the clock out or score late, resulting in a tie or win. So to overreact like so many would be a bit of amnesia and to negate the plain bad officiating that occurred up there as well as the Broncos dropping like dominoes in the secondary would suggest it might be worse than "amnesia" and a doctor consultation might be necessary.
Link to ring exchange:
http://m.huffpost.com/us/entry/4284290