+Wes Welker Has to go through Practice per Concussion (+NFL) Protocols in Order to Play on Sunday at +Houston Texans
+ESPN
aka (Disney Sports), Mark Schlereth, discusses the concussion to
+Wes Welker
and the
+Denver Broncos
upcoming match up visiting the Texans this weekend.
With the NFL's concussion protocols, players must participate in a couple practices. (The week of, of course). Welker being present cannot really be described properly, outside of being a major variable that teams will either double-team or be forced to shift a safety, defensive back, and/or backer his way because of the threat he presents as a receiver and even downfield blocking. Obviously, Welker brings a mental aspect with him in how he plays, adjustments, spotting a scheme or coverage for a hot route if there is a blitz or single coverage. Bubba Caldwell performed outstanding in week 15 vs.
+Chargers
with 2 TD receptions in the game. He has the ability to stretch the defense deep and can make some defenders miss in the open field.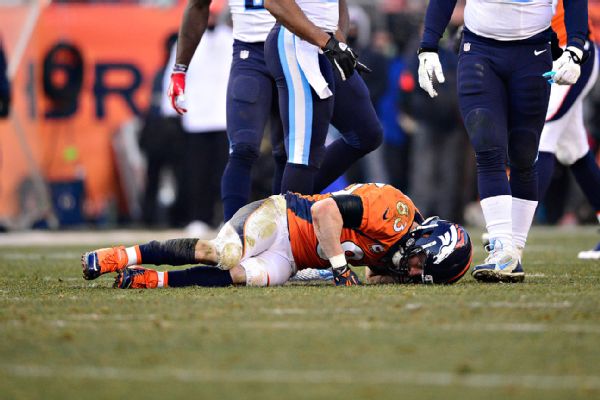 Wes Welker after getting concussed versus the
+Tennessee Titans in Week 14 in the Mile High City.
Photo Courtesy: ESPN/Denver Post/Getty Images
Welker will be missed anytime, but the Broncos currently (knock on wood) are doing okay with health on the offensive side (outside of losing Clady for the year). The Broncos losses of Moore and Vickerson are proving to be the difficult adjustment or replacements. With a fully healthy Champ Bailey back in the secondary, that should help some, but they are without Kayvon Webster this week. Injuries are part of the sport (any sport) and sitting atop the AFC, with two games remaining, they are obviously handling it pretty well at 11-3. "Greek" the Broncos Head Athletic Trainer will certainly get Welker back at the proper time whenever he will be healthy enough to go again. Broncos,
+BRONCOS CR3W
, fans, and organization will be very happy when it does occur. Peyton Manning is superb at making adjustments and now that they have a short week that they are coming off of and Caldwell's play in the short week, and some fine tuning since, hopefully there is not a significant loss if Welker is unable to go.
Broncos CR3W is hoping that the defense rounds into shape a bit more. Really, what we are concerned with is 3rd Down and redzone efficiency on defense, forcing FGs over TDs and perhaps some takeaways. Included in special teams/defense category is the kick return variable as well that has really crushed the Broncos in all of their losses this year. Whether it is with special teams coaching or Holliday returning or the blockers, rushers; this group has got to make better decisions whether it is a simple choice of catching a punt or not, it is significant to rectify such aspects. Time for the best duo of kickers to stop carrying the special teams groups. Delve further into the upcoming matchup. Schaub is in as a starter and Keenum is out for Houston, which will make the Texans tougher more than likely.
ESPN article linked to the video is available by clicking
here
.